Dear visitors of our site!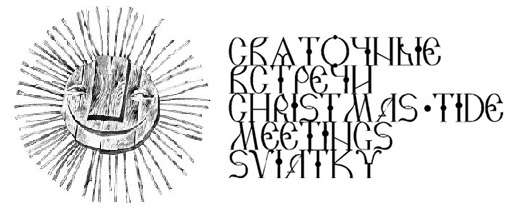 The Board of Founders have done their traditional job and through free associations, relying on equally free associations of the Christmas-Tide Academy, they have defined the theme for the 24th Festival.
A great help through this was awareness that in 2018 the Festival falls on days that are perfect weekdays, which sent everyone thinking that the long-standing Sviatky setting is that of an OBJECT, in other words – just a calendar factor and a fetish, something just to adore without giving a second through to it.
And depending on what you relate yourself to, or what you place inside what, something will happen, be that inside or outside. Well, just similar to the famous Sviatky joke – God knows!
We inflated a symbolic balloon with what was done at the previously held Sviatky admitting that there was something held within or embodied in the creativity; we had riddles and believed there would be answers to those; we counted the legs of a Sphinx and had fantasies regarding the place under the Sun.
And at a certain point we realized that the balloon has its own boundaries, and there is a limit on its capacities, and in order to keep it from exploding and from getting up at the same, in order to prevent its loss as a meaningful object, it will take a certain exact number of puffs made inside it – neither more nor fewer. Otherwise we may slip into something that we call perversion (and there can be many of them, really many, and it may look like in some cases those perversions stay completely off the boundaries).
So, what is the object, where is the object, and does the object exist, actually? Or is there a non-living thing with some features of a living object ascribed to it?
We propose the theme of THE OBJECT AND THE FETISH, as a way to enjoy a completely safe & creative atmosphere of the Svitaky community to investigate the parts of psyche that we seem to know, yet which still remain a mystery. And as soon as the first ice is broken, then the whole … eh… thing may prove to be something else, and this, in turn, will turn out to be interesting indeed!
We are looking forward to meeting you at the Festival where each participant is of great value, no matter what are his or her type and way of attending the event.
Marina Chmykhova
ON A MISSION FROM THE BOARD OF FOUNDERS
We invite everyone to familiarize themselves with the prepared report on the last festival "Christmas Tide Meetings 2017".
We will be glad to receive your feedback, which you can share on the "We are forming the program of the 24th festival" on our forum.
Best regards to you and to new creative meetings!
Join our groups in social networks:
Обновлено 14.06.2017 13:05
| 2017 | 2016 | 2015 | 2014 | 2013 | 2012 | 2011 | 2010 | 2009 | 2008 | 2007 | 2006 | 2005 | 2004 | 2003 | XX век | История |
---
| Фестиваль Святочные Встречи ©. 1995 - 2015. | Все права защищены | Хостинг, дизайн, техническое сопровождение - Ivan Korolevskiy.
---